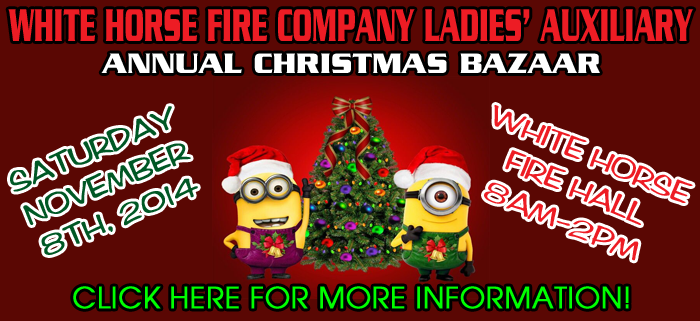 LANCASTER COUNTY LINE OF DUTY DEATH

Firefighter/EMT Christopher Eno, October 24

It is with very heavy hearts that we, the officers and members of the Salisbury Township Fire Company #1, extend our condolences to the Robert Fulton Fire Company (Station 89), as well as the Rawlinsville Fire Company (Station 58) on the passing of Firefighter Christi Rodgers, age 26, this morning. She was preparing to respond to a working house fire in Fulton Township, when she suffered a medical emergency and unfortunately succumbed at the hospital.

Her husband James, is also a firefighter with ... (Full Story & Photos)



(Image courtesy of Gap Fire Company)

Paradise Township School Bus Accident

Firefighter/EMT Christopher Eno, October 20

At 8:29AM on Monday, October 20, Ambulance 49-1 was dispatched as part of the initial assignment to Assist the Kinzer Fire Company (Station 45) on a vehicle accident at the intersection of Strasburg Road (Route 741) & Vintage Road in Paradise Township.

Lancaster County Communications was reporting a dump truck versus an occupied school bus with the school bus on its side. Additional resources were dispatched to the scene. Station 49 Fire Police & Squad 49-1 were dispatched at 8:50 to assist with ... (Full Story & Photos)


Fire Call Log 10/1 to 10/15/14

Firefighter/EMT Christopher Eno, October 15

10/01/2014....16:14....Vehicle Accident, 400 block of Churchtown Road in Salisbury Township. Ambulance 49-1, Engine 49-1, Engine 49-2. Assisted by Wellspan Ephrata ALS, Honey Brook Fire-Rescue, and PA State Police

10/10/2014....12:56....Mobile Home Fire, 700 block of Stonewood Drive in Salisbury Township. Ambulance 49-1, Engine 49-1, Tanker 49 assist Gap Station 42.

10/11/2014....05:33....Traffic Control, 4100 block of Old Philadelphia Pike in Leacock Township. Squad 49-1 & Station 49 Fire Police ... (Full Story & Photos)



Stonewood Drive Mobile Home Fire (Chris Kennedy photo)


Fire Prevention Week is here!

Firefighter/EMT Christopher Eno, October 04

"Working Smoke Alarms Save Lives: Test Yours Every Month!" is the theme for Fire Prevention Week 2014, October 5-11.

"Smoke alarms can make a life-saving difference in a fire, but they need to be working," said Lorraine Carli, NFPA's vice president of Outreach and Advocacy. "Unfortunately, many home fire deaths result from fires where a smoke alarm is present but does not operate. This year's Fire Prevention Week theme focuses on motivating people to test their smoke alarms each month to make sure ... (Full Story & Photos)


Thank You for supporting our Annual Roast Beef Supper!

Firefighter/EMT Christopher Eno, October 04

Thank you for your generous support of Our Annual Roast Beef Supper!

The dinner consisted of roast beef, mashed potatoes, corn, lima beans, pepper cabbage, bread, drink and dessert; and was available to sit down and dine in the firehouse or as a take-out meal.

Our next Supper will be our Annual Chicken Pot Pie Supper in April 2015. We hope to see you then!... (Full Story & Photos)



Thanks for your support!



Group picture of the 49 previous championship trophies along with the 6' tall 50th trophy. (Dale Ebersol photo)

50 years of the New Holland Fair Firemen's Tug-O-War

Firefighter/EMT Christopher Eno, October 02

On the evening of Thursday, October 2, a ceremony was held at the New Holland Farmer's Fair to celebrate the 50th Anniversary of the Annual Firemen's Tug-O-War. Traditionally, the Tug-O-War is one of the fairs most popular attractions, drawing hundreds of spectators each night of the tournament.

This year, in honor of the 50th Anniversary, a "Parade of Trophies" was held. each years winner was announced, and a member of the company carried that years trophy out onto the arena. Highlighted was ... (Full Story & Photos)


8th anniversary of West Nickel Mines Tragedy

Firefighter/EMT Christopher Eno, October 02

Please take a moment today to remember and pray.

Today, October 2nd, is the eighth anniversary of the tragedy at West Nickel Mines Amish School in Bart Township. As part of the mass casualty response dispatched that morning by Lancaster County 911, Ambulance 49 was one of the first arriving emergency medical units at the school that tragic day.

Remember the girls that the Lord called home: Naomi Rose Ebersol, age 7; Marian Stoltzfus Fisher, age 13; Anna Mae Stoltzfus, age 12; Lena Zook Miller, ... (Full Story & Photos)



The female driver self extricated from the overturned vehicle.

One overturned on Churchtown Road

Firefighter/EMT Christopher Eno, October 01

At 4:14PM on Wednesday, October 1st, Station 49 along with Rescue 33 and Medic 04-40, were dispatched to the 400 block of Churchtown Road for a vehicle accident with entrapment.

Lancaster County Communications was reporting a single vehicle accident with a occupant trapped inside, attempting to free herself.

Deputy Chief 49 (Beyer) arrived on scene and confirmed a single vehicle overturned, with the occupant self-extricated. Rescue 33 was then cancelled.

Engine 49-2 arrived and controlled hazards ... (Full Story & Photos)

Any duplication of text, photos or any other content published on this website, is prohibited without permission of the Salisbury Township Fire Company #1.
(Content used from sources outside of the Company are credited to the author and/or photographer if known.)
Attention Patch Collectors
Our company patch is only available for purchase at the fire station. Do not send us inquiries requesting patches for trade or for purchase through postal mail or e-mail. Patches can only be purchased by those individuals who visit the station in person.
  var _gaq = _gaq || [];
  _gaq.push(['_setAccount', 'UA-40480489-1']);
  _gaq.push(['_trackPageview']);
  (function() {
    var ga = document.createElement('script'); ga.type = 'text/javascript'; ga.async = true;
    ga.src = ('https:' == document.location.protocol ? 'https://ssl' : 'http://www') + '.google-analytics.com/ga.js';
    var s = document.getElementsByTagName('script')[0]; s.parentNode.insertBefore(ga, s);
  })();