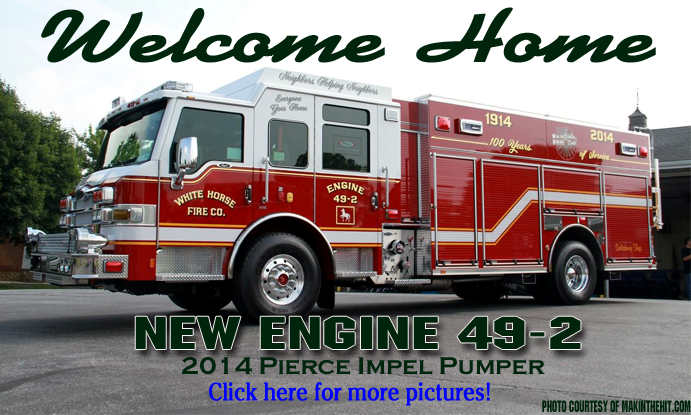 Passing of Life Member Jonas E. Stoltzfus

Firefighter/EMT Christopher Eno, August 21

We regret to announce the passing of Life Member Jonas E. Stoltzfus this morning. We extend our deepest condolences and prayers to the Stoltzfus family in this time of great loss.

Jonas was a dedicated member of the Company for many years. Several members of Jonas's family are also active members of the Company.

Jonas Obituary:

"Jonas E. Stoltzfus, 69, of 102 Meetinghouse Road, Gap, passed away on Thursday, August 21, 2014 at home. Born in Gap, he was the son of the late Steven F. and Malinda ... (Full Story & Photos)


Vehicle Accident at Cains and Mt. Vernon Roads (Chris Kennedy Pic)

Fire Call Log 8/1 to 8/15/14

Firefighter/EMT Christopher Eno, August 15

Quiet start to the month of August! 1 call for service was recieved:

08/05/2014....16:51....Vehicle Accident, Cains and Mount Vernon Roads in Salisbury Township. Ambulance 49-1, Engine 49-1, Squad 49-1. See separate story.... (Full Story & Photos)

100th Anniversary Videos

Firefighter/EMT Christopher Eno, August 13

Here are some videos taken on the day of our 100th Anniversary Celebration on July 12th.

Click on the YouTube links below.

Enjoy!

Thanks to the following for the videos: Jim Killinger, Daniel Stoltzfus, Shawn Fisher ... (Full Story & Photos)



A few videos were also taken of the day's festivities


(Chris Kennedy Pic)

Collision at Cains and Mount Vernon Roads

Firefighter/EMT Christopher Eno, August 05

At 4:51PM on Tuesday, August 5, Station 49 was dispatched to the intersection of Mount Vernon and Cains Roads in Salisbury Township for a vehicle accident.

Units arrived on scene with a two vehicle accident.

Fire units controlled scene hazards and controlled traffic, while EMS transported the injured to a local hospital for treatment.

Thanks to Chris Kennedy for the pics... (Full Story & Photos)


Fire Call Log 7/16/14 to 7/31/14

Firefighter/EMT Christopher Eno, July 31

07/17/2014....15:55....Dwelling Fire, 1500 block of Birdell Road in West Caln Township. Tanker 49 assist Wagontown Station 35. See separate story.

07/21/2014....05:48....Fire Chief Notification, 5500 block of Old Philadelphia Pike in Salisbury Township. Chief 49.

07/23/2014....17:29....Commercial Fire Alarm, 500 block of Lime Quarry Road in Salisbury Township. Engine 49-1.

07/23/2014....19:19....Investigation Inside, 100 block of Cambridge Road in Salisbury Township. Engine 49-1, Squad 49-1.

07/27/2014....16:52....Barn ... (Full Story & Photos)



West Caln Township Mobile Home Fire (Image Courtesy of Wagontown Fire Company)



Units from Station 49 and surrounding companies were dispatched to this farm for a barn fire. (Photo Courtesy of Chris Kennedy)

Close call on School Lane Road

Firefighter/EMT Christopher Eno, July 27

At 4:54PM on Sunday, July 27, Station 49, along with mutual aid, was dispatched to the 200 block of School Lane Road in Salisbury Township for a barn fire.

Lancaster County Communications was reporting a small oil fire in the barn, and that the resident was attempting to extinguish with extinguishers.

Units arrived with a light smoke condition visible from the exterior, with a fire in the ceiling on the inside. Fire damage was contained to that area.

Fire was placed under control a few minutes ... (Full Story & Photos)


100th Anniversary Celebration photographs

Firefighter/EMT Christopher Eno, July 18

On Saturday, July 12th, we celebrated our 100th Anniversary with our members, friends, neighbors, community members, and neighboring fire companies.

We would like to thank all that attended, and those that assisted us throughout the day. We hope everybody had a great time and enjoyed themselves.

Here is a gallery of the days events, there are just over 500 photos...

Thanks to Jim Killinger for the photographs!... (Full Story & Photos)



Fire conditions prior to to arrival of fire apparatus

Tanker assist in West Caln Township

Firefighter/EMT Christopher Eno, July 17

At 3:55PM on Thursday, July 17th, Tanker 49 was dispatched to assist the Wagontown Fire Company (Station 35), on a dwelling fire in the 1500 block of Birdell Road in the Martins Corner section of West Caln Township.

Units were on scene with a working fire. Tanker 4-9 arrived on scene and offloaded its water into Honey Brook Engine 33-5.

Tanker 49 cleared the assignment at 4:54PM.
Any duplication of text, photos or any other content published on this website, is prohibited without permission of the Salisbury Township Fire Company #1.
(Content used from sources outside of the Company are credited to the author and/or photographer if known.)
Attention Patch Collectors
Our company patch is only available for purchase at the fire station. Do not send us inquiries requesting patches for trade or for purchase through postal mail or e-mail. Patches can only be purchased by those individuals who visit the station in person.
  var _gaq = _gaq || [];
  _gaq.push(['_setAccount', 'UA-40480489-1']);
  _gaq.push(['_trackPageview']);
  (function() {
    var ga = document.createElement('script'); ga.type = 'text/javascript'; ga.async = true;
    ga.src = ('https:' == document.location.protocol ? 'https://ssl' : 'http://www') + '.google-analytics.com/ga.js';
    var s = document.getElementsByTagName('script')[0]; s.parentNode.insertBefore(ga, s);
  })();